Pearl the Knitter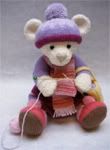 The second is the Nursery Mice that is being offered in the
Knitting, Beads and Other Things
(Carol also has a
website
by the same name. She also sells the magazines and some Alan Dart patterns as well as kits.) Depending on whether you got the magazine from the newsstand (4 patterns) or subscribed (5 patterns) depends on what you are going to knit.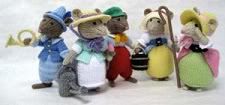 * Jack & Jill
* Little Boy Blue
* Mary, Mary Quite Contrary
* Little Bo Peep
Includes the above plus the one listed below.
* Little Miss Muffet