I joined in the adventures fo Stamps traveling around the world.
Here are the Pictures:
Stamps and Friends
Stamps and I in front of Edmonton City Hall
There is a beautiful fountain in the summer and in the winter it becomes an ice rink.
At the Cenotaph in front of City Hall
Lunch Break
This is a really neat sculpture just outside of Churchill Square, across the street from City Hall.
Stamps is a hedgehog that was designed by Jean Greenhowe.
Jean Greenhowe's Knitted Hedgehogs (28 pages)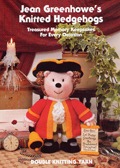 Cora