Stevie Cameron has written a number of books on various topics including the scandal involving Brian Mulroney. Stevie was the only journalist subpoenaed for Justice Jeffrey Oliphant's report on "certain dealings" between arms dealer Karlheinz Schreiber and Brian Mulroney. She has written a number of books that are hard hitting. I first discovered her not because of Mulroney but because of Robert "Willie" Pickton who has had far reaching implications in my life. I lost 2 friends to this monster and I wanted answers.
Stevie wrote her first book in 2007, which delved more into the lives of the many missing women from teh Downtown Eastside of Vancouver, also known as the notorious low track. I lived in and worked in the Downtown Eastside for a number of years, 1985-1989. After 1989 I moved all over the place, especially after getting involved with a very abusive man, however I digress.
Stevie's first book, called the Pickton File, was released June 3, 2007.
This is the newest book called "On the Farm: Robert William Pickton and the Tragic Story of Vancouver's Missing Women". This books delves more into who Pickton was and how he came to be the monster that he is. Should be interesting....it will be released as an ebook first and then as a hard cover. I for one will be wanting to pick it up.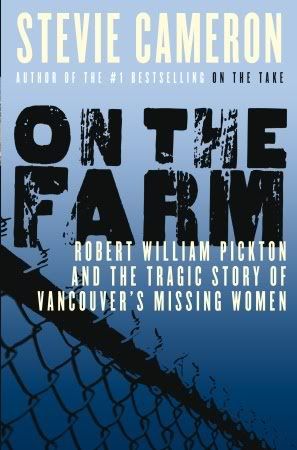 Cora