ood Morning Crocheters,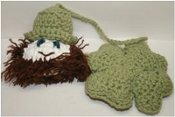 I know St. Patrick's day is a while away yet, but it will be here before you know it, which is why I'm presenting this pattern so early.

To celebrate being Irish and St. Patrick's day you can crochet yourself a cute shamrock and leprechaun pattern. These are fun to make and you can hang them from your rear view mirror in your car.


Click here for the cute shamrock and leprechaun pattern and additional crochet tips.

Some other Crochet Ideas Today:
15 Crochet Projects under $15- Find bargain crochet patterns here.
Favorite Crochet Patterns- Learn what my favorites are.
Easy Floppy Hat- Cute, Warm, Fashionable.


Happy Crocheting,


Editor of Hooked on Crochet
Get environmentally friendly with this fun shopping bag. A size G hook is needed to make this bag. Shop for your favorite things with your new bag.


This crochet afghan is an intermediate level pattern. Who wouldn't want to crochet an afghan with sleeves? Great for mobility.