Good Morning Knitters,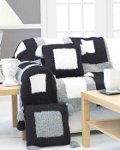 Our first snowfall has finally come, the plows are out, the trees are pretty and the fireplaces are blazing. You want to do nothing but snuggle up in your cozy knit patterns. While knitting these free patterns you can keep yourself warm with the yarn sitting on your lap.

Sweaters:

Cozy Red Pullover- Cozy on up with your loved one in this amazing pullover.

Pullover Yoke Sweater- This 3 color design is great for the winter season and brings in great contrast and texture.

Fair Isles Knit Sweater- This sweater is for the more experienced knitter. The great colors really add to the design.

Outdoor Gear:

Fingerless Cable Gloves- These gloves are perfect for driving. Your hands will stay warm, but you'll still be able to use your fingers.

Hooded Scarf- Not only will your neck stay warm with this free knitting pattern, but your head will too. It's a neat design.

Ribbed Beanie- This simple pattern is elegant yet has a little playful feel to it. Picture yourself ice skating in it.

Home Decor:

Black and White Afghan and Pillow Set- These pillows will make your living room look wonderful. The matching afghan is nice and warm too.

Peaceful Lap Afghan- Relax on the couch and pull this peaceful lap afghan over your body, take a deep breath and let it all go.

50 Favorite Christmas Cookie Recipes Free eCookbook is just published. Whether you are a fan of the classic decorated sugar cookie, or are looking for a new and unique Christmas cookie recipe, RecipeLion.com is here to help make your Christmas cookies spectacular.

Happy Crafting,


FaveCrafts.com Editor


P.S. Check out the 26 free scarf knitting patterns we have, just in time for winter.