Good Morning Crocheters,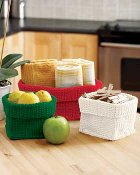 Buying a house is a great time in one's life and to give a housewarming gift is a special gesture. This is something to make them feel at home and to get them started. Here we have some great housewarming gifts as well as easy crochet placemat patterns.

These crochet stash baskets are really nice to make as a housewarming gift. They can easily hold little nic nacs around the house. You can even use it as a fruit basket to display.


Click here for the pattern and additional crochet tips.

Happy Crocheting,


Editor of FaveCrochet.com


P.S. Learn some crochet tips your mother never told you, including going to the library and getting some ideas, not being afraid to try new things and many more.
Crochet a matching place mat, napkin holder and coaster to lay out for your company. These are nice for the spring season.

Using contrasting colors you can add a little style and flavor to your dining room or kitchen. These placemats can be neatly gift-wrapped and given.