Good Morning Crocheters,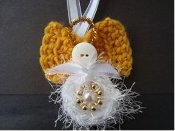 The Christmas season is still among us and soon we will ring in the New Year. One of my favorite symbols of this winter season are angels. You can crochet such lovely angels to watch over you or give to a friend.


This crochet angel ornament can really be used all year round. You can hang it from a light or a door handle. The glitter halo makes it shine. This is easy to crochet and it'll make you feel good.


Click here for the pattern and additional crochet tips.

Have Fun,


Editor of FaveCrochet.com


P.S. Crochet yourself some home decor. See what free patterns you can crochet.
Ring in the new year with this angel pattern. You can attach it to a sweater and make a great embellishment out of it.

Not only does she look great on trees, but you can put her in plants or organize her in a great centerpiece.