I love his designs, which you can find at
Alan Dart
. however I really do hate seaming things, so if there is another way of doing it I would find a way. His animals look very realistic and I have many of them in my possession. The Nativity is awe inspiring and he has three different versions out.
Some of Alan's Desi
gns:
The Tooth Fairy
Wesley Westie
Persian
Of course his ever popular gnomes!
Purl the Knitter is my favorite and you can see why here, on the right. Look at the detail put into her.
Nativity Set(s)
The first two are very similar in design, it appears the colors were changed. I actually have all three patterns and plan to work on them soon. That is once I can get into my craft room in the basement. I am also knitting
Jean Greenhowe's Christmas Crib
. Jean, after many request, added the Donkey to her Christmas Crib. The Donkey can be found in
Christmas Treasures
.
Alan Darts Nativity Sets:
Christm
as Wishes
Available in:
Simply Knitting 22, December 2006
Irresistible Gifts to Knit







Nativity Set
Available in:
The Nativity Collection

Available in:
Sirdar 285, The Nativity Collection
Jean Greehowe's
Christmas Crib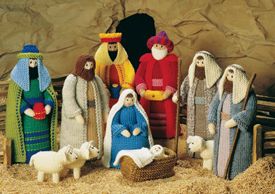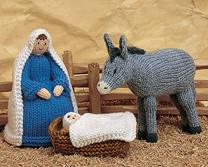 I have knitting Jean's design for a very long time. I knitted her dolls and animals since the late '80, early '90s. I remember working on the Cinderella Topsy Turvey doll for one week straight for my daughter. She would let me knit anything else until that doll was finished. She absolutely loved her. For easter they always got a hand knit doll or toy to go in their Easter basket. I was even commisioned to knit Emily fo the family social worker, who was having a baby at the time.
I fell into knitting Alan's designs quite by accident...I bought Simply Knitting and there was one of designs. It was the premier issue, however I bought the magazine ($13.95 CA) and have most of the copies since then.
Then along comes Joyce, known as joyknitcrochet on the net and on Ravelry. She has come up with a tutorial using Alan's gnomes as an example! Kudos to you Joyce for the work, great job! Check them out here:
Notes on Shaping Gnome's Hat
,
Gnome's Mitten in the Rounds
, and
Gnome's Boot in the Rounds
. Check out her blog in general, she has some beautiful pictures!
Cora